Citymart has distilled over 15 years of experience transforming procurements in 100 cities into an intuitive, web-based application that enables next-generation city procurement today. The Citymart platform improves any city procurement via two integrated services.
In just 10 minutes, every procurement can start to count in your city. Citymart Opportunity Builder™ supports your team to supplement any RFP/RFI/RFQ with next generation best practices, coupled with state-of-the-art technology. Our software guides your team to ask the right questions, explore global solutions, share with other cities, design with metrics, refine the RFx, then engage the market through Citymart BidSpark™.
With a single click, Citymart BidSpark™ allows cities to post projects that reach thousands of vendors via our proprietary algorithms and database. And the responses go directly from vendors to your Procurement Office. It provides an express lane to 10x or more bidders on virtually any procurement.
Our services aim to help cities: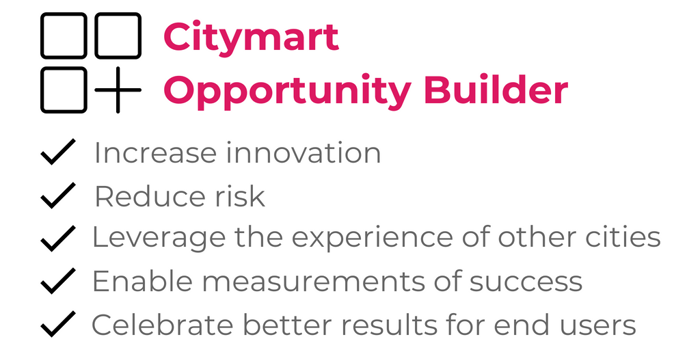 ---
Interested in learning more?